The Crown and Castle in Orford has received two top AA awards following a recent inspection.
Head Chef, Jake Lawrence and his team have been awarded a 2 AA rosette award for their culinary excellence, while the highly rated 21-bedoom property has received a much sought after five star restaurant with rooms classification.
The 2 AA rosette award is given to restaurants which achieve consistent high standards of cuisine prepared with precision and that give special attention to the selection of quality ingredients.
The Crown and Castle's creative British menu features a wealth of top Suffolk produce including Orford landed seafood and locally reared meats, plus classic favourites and traditional roasts for Sunday lunch.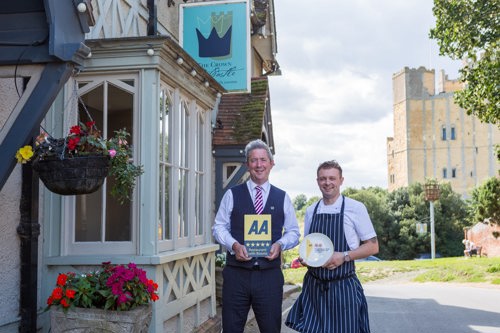 Delighted with the 2 AA rosette award, Jake Lawrence said: "Throughout my career rosettes have always signified a mark of quality. Our decision to become part of the scheme and the result is something I am hugely proud of.
"These two rosettes are particularly special as the review was undertaken with a menu, food style and quality standard crafted over many years. But our kitchen never rests. We're considering this year as the start of our culinary award journey and we have lofty ambitions for the future."
John Morrell, General Manager of The Crown and Castle in Orford added: "These awards are down to the hard work and dedication of the team over the past four years and we are truly delighted with the outcome.
"Food is at the heart of what the Crown and Castle offers and we consider ourselves extremely lucky to be situated in such a wonderful location, with a vast provenance of producers on our doorstep, who we are able to work closely with and showcase on each and every plate."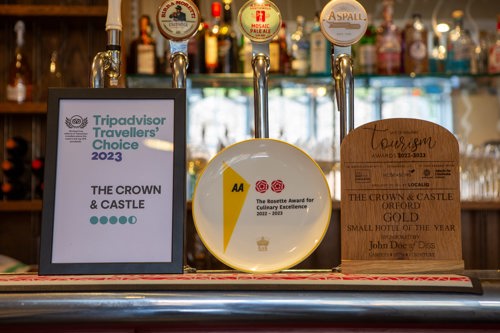 The AA awards follow on from The Crown and Castle's recent success in winning the East of England Small Hotel of the Year Gold Tourism Award 2022-23, which sets out to champion the very best tourism and hospitality businesses in the region.
David Scott, CEO for The Hotel Folk, which owns The Crown and Castle, said: "At The Hotel Folk we pride ourselves on being hospitality experts and the recognition from The AA signifies this.
"By being dedicated to details and providing extraordinary service, John, Jake and the whole team at The Crown and Castle deliver an award-winning experience for our guests made clear by their continued achievements this year.
"I look forward to seeing what the future holds for the hotel team who have set the standards high but intend to raise the bar even higher."
The Crown and Castle has also recently invested some £200,000 in the refurbishment of seven rooms styled in recognition of well-known local landmarks.